Church Bulletin
September 24, 2023
CALL TO WORSHIP
Welcome
Announcements
"Crown Him With Many Crowns"
"Crown Him King"
Offering
Prayer
COME TO WORSHIP
Songs Of Praise
"Fairest"
"What A Beautiful Name"
"Heart Of Worship"
Ministry In Scripture: Pastor Marty Cole
"In The Community Of Christ" A Series In 1 John
"Chapter 2b: Know More Jesus"
Hymn "Abide With Me"
Prayer
In Our Prayers This Week
Church Family
Dennis and Linda Abraham
Evan and Tiffany Adams
Village Missionary Spotlight
Andy and Staci Hall
Ridgway, MT
Ridgway is a small community in the southeast region of Montana. We are close to the borders of Wyoming and South Dakota and approximately 50 miles from the towns of Ekalaka, Broadus, and Alzada. The people in our community are ranch families that raise beef and sheep. Prayer Requests: 1) Our church's kids club—Faithful Bible Investigators (FBI)—will resume in September. Pray for creativity and wisdom as we plan for it and that kids would come. 2) Pray for ways to reach people in our community who don't attend church. 3) Pray for diligence and wisdom as we homeschool our children. 4) Pray for our health as we navigate diabetes, high blood pressure, and sleep issues.
OPCC Missionary Spotlight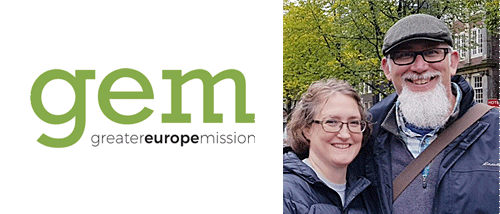 Grant and Jenifer Chinn
Greater Europe Mission -- England
Grant and Jenifer have served in Colorado and Birmingham, England in the West Highlands effort. Linked together with key GEM personnel, they will not only continue in congregational support, but offer daily discipleship and ministry in West Highlands, among the 2.7 million. While serving throughout the Greater London area, their focus in church planting, team partner building, they will establish cross-cultural relationships with a coffeehouse ministry. Pray for additional support in the coming months. Pray for effectiveness in sharing core Bible truth. Learn more.
Announcements
Today
Koffee Koinonia after our service -- everyone is welcome!
6:00 p.m. -- Prayer, Praise, Petition
Monday, September 25
7:00 p.m. -- Board Meeting
Tuesday, September 26
7:00 a.m. -- Men of The Cross
Wednesday, September 27
6:30 p.m. -- Power Up! Prayer Session
Upcoming Events
Monday, October 9
10:00 a.m. -- Ladies Bible Study in 1 Peter with Kathy Vesser. There is no charge for this class.
12:00 p.m. -- Ladies Bible Study: Biblical Nutrition with Cindy Cole. There is no charge for this class.
2023 Missions Conference -- Save The Date!
Our missions conference is scheduled for Friday, October 20 through Sunday, October 22; we will have some LIVE stream and some videos to update and inform us about our beloved missionaries around the world. Everyone is welcome to attend! We will be accepting special missions offerings also.