Church Bulletin
November 27, 2022
WELCOME FOR HOLIDAY WORSHIP I
Announcements
"Start At The Manger"
"O Come Emmanuel"
WORSHIP IN THE WORD
First Sunday of Advent: "HOPE"
Scripture Reading
Song: "There Is A Hope"
Worship In Giving
Prayer
Ministry In Song
"Come Thou Long Expected Jesus"
"Jesus What A Beautiful Name"
"Sing We The Song Of Emmanuel"
WORSHIP IN SCRIPTURE
Ministry In The Word: Psalms Of Messiah
Ministry In Scripture Today
Pastor Marty:
"Hope Set On High
"Angels We Have Heard On High"
"Unto Us A Child / Open The Eyes"
Closing Prayer
In Our Prayers This Week
Church Family
Greg and Lorrie Neuzil
Ben and Tammy Olson
Village Missionary Spotlight
Travis and Jennifer Cochran
Vesta, WA
North River Community Church in Vesta is located in southwest Washington in a densely forested area locally referred to as North River. We are 9 miles down a country road from scenic coastal highway 101. We have no incorporated town, but there is a small K-12 school, a tavern, a grange, and a Christian camp. Local employment opportunities include logging and forestry, as well as various fishing industries. Many in our area are retired. Most of our small congregation lives along an 18-mile stretch of road that functions as "a long driveway we all share." There are no other churches for at least 25-30 minutes in any direction. Prayer Requests: 1) As a result of a flood in January, we've done major repairs on the church and parsonage. We praise God for His provision of funds and resources! Please pray that the Lord will use the winter months to refresh our congregation and us physically and spiritually. 2) Pray for new opportunities to reach out to folks in the valley and for spiritually open eyes and hearts to respond to the Gospel. 3) Our family is welcoming a baby in October; please pray as my wife and I and our other five children adjust to this new family dynamic! 4) We host a free community harvest meal each November at nearby Shiloh Bible Camp. Please pray for the Lord to use this outreach to open doors to deeper relationships with our neighbors.
OPCC Missionary Spotlight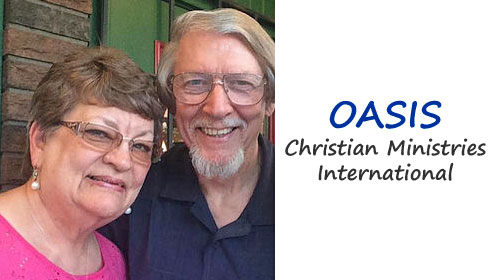 Colin and Mary Wellard
Oasis Christian Ministries International
Colin and Mary have been in Africa, Europe, England, Iceland, South America, Central America, as well as Canada and United States. They serve in church recovery, leadership development, grief counselling, minister in teaching and worship, and more. They both come from missionary families and have hearts to see God's church healthy and holy. Teachers of timeless Truth, they are talented musicians, who love to lead God's people in worship. Hill City Church in BC, Canada is their base of operation and church covering. For 10 yrs. at Pacific Bible Church, Ilwaco, WA we have maintained a cordial, ministerial Kingdom building partnership in the work of ministry. Pray for health and well-being. Pray for effective multimedia ministry impact in these times. Learn more.
Announcements
Today
Koffee Koinonia after our service -- everyone is welcome!
6:00 p.m. -- No service tonight
Monday, November 28
7:00 p.m. -- Board Meeting
Tuesday, November 29
7:00 a.m. -- Men of The Cross
Wednesday, November 30
6:30 p.m. -- Power Up! Prayer Session
Upcoming Events
Tuesday, December 20
5:00 p.m. -- Christmas Caroling! All are welcome to join us -- meet in the church parking lot to carpool.
7:00 p.m. -- Christmas Party and White Elephant Gift Exchange; each person brings a wrapped gift and finger food to share.
Saturday, December 24
5:30 p.m. -- Christmas Eve Candlelight Service